| | |
| --- | --- |
| | Call Center :: 0-93583-8266 |

Recomended
Products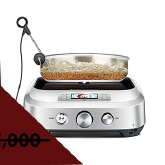 63,000.00 Baht
24,900.00 Baht
33,000.00 Baht
Home use
Turn your ordinary meal into gourmet  meal
No skill required to cook perfect meal
Cook ahead of time and Meal planning
Professional Kitchen, Central Kitchen and Food Factory
Consistency of Sous vide cooking is so precise, There is no more trouble in quality control. The results are perfect everytime and by anyone.
Cook in batch, You can cook up to 40 medium rare steaks in Sous vide Machine
Long storage, Food that are cooked Sous vide can be kept longer period as the food is vacuum sealed packed
Cooking Sous vide also will pasteurized ingredient, It can kill most of bacteria and enhance longer shelf life.