| | |
| --- | --- |
| | Call Center :: 0-93583-8266 |

Product ships complete with:

Product Code: PSC Control freak

Product Details:

Temperature Controlled Commercial Induction Cooking System.

"The innovators at Breville® and PolyScience® have raised the bar for induction cooking with The Control Freak™. We have been using it daily in the commis kitchen at The French Laundry and it has performed flawlessly; better than any induction cooking system we have used to date. Smart features such as the easily navigable digital display, the precision of its dials, the ability to program recipe settings and maintain temperatures accurately for any length of time, make The Control Freak™ the new gold standard for induction cooking."

Thomas Keller

Video: Introduction
https://www.youtube.com/watch?v=xg1z8B7yWDA

Making Omeletee with Control Freak
https://www.youtube.com/watch?v=BERny1QonvQ

Pan Control, Toasting spices
https://www.youtube.com/watch?v=OvFsYpGdc8c

Probe Control making Easy Holladaise sauce
https://www.youtube.com/watch?v=im2vay3_KEQ

Recipe program preset
https://www.youtube.com/watch?v=M0gSQiPfCEA

----------------------------------------------

"The Control Freak is one of the most aptly named devices we have used. While other induction burners can be powerful, this one combines power (fast heat delivery) with precision (set to a specific temperature), which is something we haven't experienced with other induction burners."

Francisco Migoya
Head Chef Modernist Cuisine
------------------------------------------

"The level of accuracy offered by the Control Freak makes it the perfect surface for virtually any cooking process as well as a precision analytical tool for all aspects of traditional and modern cuisine. It's temperature precision and stability coupled with durable commercial construction assures consistent operation in the toughest environments while the ability to store cooking profiles and program gives users complete consistency in their recipes and applications."

Shola Olunloyo
------------------------------------------

"I love what the geniuses at Breville and PolyScience have done with the utilitarian but not usually versatile induction burner. With their newest iteration, the Control Freak, they have created a unit which does what it says and much more! I am able to use the Control Freak in my kitchen and even better when I am on the road, to cook with incredible precision in a way that hasn't been possible before. With the smart probe, I can oil poach fish, hold my soup at exact temperatures, and do this all in a catering hall with a strict rules concerning open flames. The Control Freak has become a staple in my prep kitchens, off premise events, and demonstrations. I love it."

Ivan Orkin
-----------------------------------

The Control °Freak® induction cooking system is the first of its kind to accurately measure, set and hold 397 cooking temperatures from 86°-482°F. The unique real-time sensing system uses a through-glass sensor to directly measure surface temperature. Probe Control™ remote thermometer to precisely control the temperature of both water and fat-based liquids. The Intensity function gives incredible control over the heat up speed to the set temperature. A Create function stores frequently used custom temperature profiles for simple one-touch recall.


Brought to you by Breville | PolyScience coming together to bring great design and unparalleled precision to the culinary world.
Recomended
Products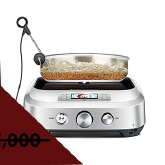 63,000.00 Baht
24,900.00 Baht
33,000.00 Baht