สินค้ามาพร้อม:

รหัสสินค้า: ETI-Thermapen3Sousvide

รายละเอียดสินค้า:

The Sous Vide Thermapen Thermometer has been specifically designed and manufactured for sous vide cooking as well as other applications where precise temperature measurement is required.

It provides simple yet accurate measurement of the internal temperature of food. Just place a small length of sous vide foam tape on the vacuum pouch to ensure that vacuum pressure within the pouch is not lost, and then pierce the foam with the fine needle probe to measure the core temperature of your food.

This model features a miniature stainless steel probe, with a reduced tip diameter of just 1.1mm, that conveniently folds away into the side of the instrument for protection when not in use.

The Sous Vide Thermapen features the same specifications as the SuperFast Thermapen and includes a FREE traceable calibration certificate.
Recomended
Products
28,900.00 บาท
9,500.00 บาท
33,000.00 บาท
1,500.00 บาท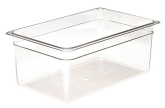 2,500.00 บาท
53,800.00 บาท