สินค้ามาพร้อม:

รหัสสินค้า: PSC_SonicPrep

รายละเอียดสินค้า:

Sonicate to New Culinary Directions

The PolyScience Sonicprep emits ultrasonic sound waves or "sonicates" to extract, infuse, homogenize, emulsify, suspend, de-gas or even rapidly create barrel-aged flavor. By applying low heat vibrations of sound energy, this new PolyScience machine provides you an incredible range of techniques.

The system is comprised of just four components: a generator, converter, probe and sound box. In any low-to medium-viscosity liquid, the probe tip releases rapid, high-frequency ultrasonic vibration waves that expand and collapse microscopic bubbles at 20,000 cycle per second. The process takes just 2-3 minutes and generates only insignificant amounts of heat, preserving vivid colors, aromas and nutrients, while producing rounder and smoother overall flavors. The short processing times provide maximum operational flexibility for chefs.

Open up even more culinary horizons:
Make vinaigrettes without using an emulsifier
Give wine a fuller and rounder mouth feel
Infuse cocktails and other liquids with volatile aromas of fresh herbs or spices
Intensify fruit or vegetable pulp for sauces and puree
Tenderize and marinate meat in seconds
Boost flavor without overcooking fish and other delicate proteins

This product is only available upon request. Request for a quote.
Recomended
Products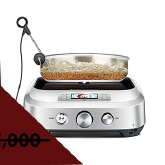 63,000.00 บาท
5,490.00 บาท
33,000.00 บาท
28,900.00 บาท