สินค้ามาพร้อม:

รหัสสินค้า: MPT_Rapid

รายละเอียดสินค้า:

Create spherified "caviar" in no time at all. This handy tool saves tons of time and effort by dispensing 96 droplets of spherification liquid at a time. Includes a complete recipe for direct spherification and troubleshooting tips.

You will have enough ingredients to make 17 cups of spherified liquids.

50g Sodium Alginate
50g Calcium Chloride
50g Sodium Citrate
1 Perfect Caviar Maker
1 Rapid Caviar Maker

**Note: Sodium alginate will only gel in a pH range of 4 – 10. Many store bought juices and foods have a pH below this level because citric or ascorbic acid has been added to extend shelf life. If your spheres fail to form properly using a commercial product, this may be the problem. You can raise the pH of the product using Sodium Citrate or better yet puree/juice your own fruits and vegetables to spherify. You can test the pH of your liquid using one of our pH meters.
Recomended
Products
28,900.00 บาท
9,500.00 บาท
33,000.00 บาท
1,500.00 บาท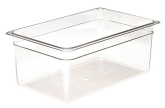 2,500.00 บาท
53,800.00 บาท