| | |
| --- | --- |
| | Call Center :: 0-93583-8266 |

Product ships complete with:

Product Code: SV_RACK

Product Details:

PREMIUM MATERIALS: Cook delicious meals for years to come and never worry about rust, staining, or corrosion with an ultra-durable rack made out of 304 stainless steel.

COOK MORE EVENLY: Organize your pouches across the rack to cook more food in your sous vide container with complete water circulation around every pouch.

UNIVERSAL DESIGN: Sous vide accessories rack can be used for cooking with variety size of polycarbonate tank

Polycarbonate tank 12 L can fit 1 Rack.
Polycarbonate tank 25 L can fit 2 Racks.
Polycarbonate tank 50, 65, 85 L can fit 4 Racks.
Recomended
Products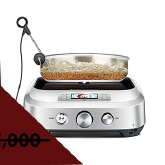 63,000.00 Baht
22,900.00 Baht
33,000.00 Baht